George Adebiyi wants to use his expertise in solar energy to help farmers in his native Nigeria find a better way to dry their crops for storage.
"It's a country with a huge potential to make life good for everybody, yet there's so much pain," said the longtime Mississippi State University mechanical engineering professor.
Adebiyi is journeying to his homeland as a Fulbright Scholar this summer to help colleagues at the West African nation's Bowen University begin developing a solar crop dryer for use in rural communities.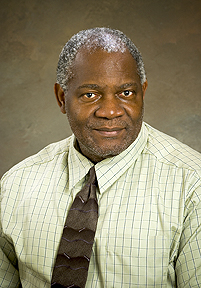 "The people there dry their crops in the open, but it's not very effective," he explained. "Flies and other things intrude. We want to do it in a controlled environment, utilizing the sun to heat the air before it is passed through stacks of grains.
"If we can find a more efficient and affordable way for average farmers to dry their crops, it will be a big step toward improving storage," he continued. "Without proper storage, they have to sell their crops early. Then, down the road, they don't have anything to sell."
Adebiyi is a specialist in the areas of heat transfer, thermodynamics and fluids, advanced energy systems, solar energy applications, and engineering analysis. Following his early education in Nigeria, he earned bachelor's and doctoral degrees from the University of Manchester, England, in 1969 and 1973, respectively.
He is one of approximately 800 U.S. faculty and professionals who will travel abroad to some 140 countries for the 2004-05 academic year through the Fulbright Scholar Program. Established in 1946 under legislation introduced by the late U.S. Sen. J. William Fulbright of Arkansas, the program's purpose is to build mutual understanding between the people of the United States and other countries.
Also chosen as a Fulbright Scholar for 2004-05 is Wanda Dodson, a professor of nutrition in MSU's School of Human Sciences, who will lecture at India's Swami Vivekanand Institute of Medical Sciences and Research. A Kentucky native and MSU faculty member since 1989, she also taught in Uzbekistan as a 1996 Fulbright Scholar.
"I have a long history of working and teaching in medical schools," said Dodson, who retires July 1 and will have the title of professor emerita.
Accompanied by his wife Iyabo, a nurse at the Oktibbeha County Hospital, and the youngest of their seven children, 14-year-old daughter Deola, Adebiyi will work with physics professor Theophilus Aro at Baptist-supported Bowen University in Iwo, Nigeria, from July 1 to the end of December.
Using locally available materials, Adebiyi and Aro plan to design and construct a prototype of a solar crop dryer for a rural community, then develop a model that could be effectively deployed in the society at large. Adebiyi also hopes to solidify university research ties between Bowen and Mississippi State, and help the Nigerian university establish a solar energy lab.
"Solar energy is a promising resource for meeting energy needs in agriculture and for improving the quality of life in the rural areas," Adebiyi said in his research proposal.
He said Nigerian farmers raise a variety of crops that include corn, beans, rice, cocoa, and peanuts, but noted the country--located on the Gulf of Guinea, between Benin and Cameroon--also "is blessed with an abundance of both fuel energy (oil and gas) and renewable solar energy."
While there, Adebiyi said he also plans to collaborate with former MSU faculty member Michael Osaji, now chief executive of the Delta State Polytechnic at Ozoro, on other research projects related to solar energy.
"Solar panels also have been shown to be cost effective in remote locations to generate power for lighting and to operate pumps for water supply," he said.
He already has shipped "about 100" books to Nigeria that will be distributed to school libraries. He said the books were donated by faculty colleagues in mechanical engineering, the MSU Bookstore and Campus Bookmart in Starkville.
Born in the town of Igosun, Adebiyi is one of five children born to a father who was a Baptist minister and civil service worker, and a school-teacher mother. An older brother, now deceased, was a Nigerian physician, while two sisters living there now both have master's degrees. Another sister, Bimpe Adebiyi, earned a doctorate in England and currently directs a mathematics laboratory in Huntsville, Ala.
"Our (late) parents put a big premium on education," said the MSU professor, who will be returning to Nigeria for the first time since his brother's death in 2001.
Between 1973 and 1984, Adebiyi worked on solar energy projects in Nigeria at the University of Lagos, the Kwara Polytechnic and the Federal Polytechnic at Bida. He also has worked for the Central Electricity Research Laboratory in England and the Shell Petroleum Company in Nigeria.
Later coming to the United States, he worked as a visiting professor of physics and engineering at Rust College in Holly Springs before joining the Mississippi State faculty in 1985. He is the author or co-author of three books on thermodynamics.
"For me, this trip is almost like going full circle," he said. "When I left Nigeria to come to the U.S., I was looking for opportunities to continue my solar energy research. I'm excited to have an opportunity to go back and do some of my work, this time from the vantage point of having Mississippi State University as my home base of support."
http://www.msstate.edu/web/media/detail.php?id=2513