How to get on the Internet from home, for as little as $80.
Disclaimer. This is not an advert or endorsement for any product mentioned in this article. Products are mentioned for informational and illustrative purposes only. Make sure you research competing products before making purchase decisions. I am not in any way shape or form affiliated with any of the companies.
Technology moves at a fast pace. Unless you keep up with the times, you may be unaware of what is now possible, that used to be out of your price range.
I am going to shed light on what is possible today for very little money, and hopefully be able to remove the vagueness on how to set things up too.
If in the not too distant past you could not afford a laptop, now you can get one for as little as USD80. An examle of such cheap laptop is the Menq EasyPC E790, made by a chinese company. There is a video review here:
http://www.youtube.com/watch?v=C_k_kpO647s
For your $80 investment, you can do most of the things a regular laptop can do, such as:
Word processing,
Video/music playback,
Data organizer,
Web browsing,
etc.
But perhaps the most important use you can put this cheap little gadget to, is for making free phone calls using VoIP programs like Skype. It is OK if you do not understand terminologies like VoIP, Skype etc. All you need to know is that they let you make free phone calls.
Most of these kinds of laptops (netbooks) come with Windows CE installed on them. Windows CE is the Microsoft Windows operating system for small devices that have weaker processors.
Because the laptop runs Windows, it means you can install basic Windows programs like Skype.
How to get on the Internet...
Let us talk about how you can use your $80 laptop to get online.
First, you need an Internet account from one of the many wireless service providers out there.
One that a friend of mine has tried is
http://mtnonline.com/products-services/ ... ta-bundles
The above page shows account options that range from N500 to N8000.
Glo-1 also offers something similar:
http://www.gloworld.com/hsi.asp
Unfortunately, I know nothing about what Glo-1 is offering.
The N500 option from MTN is a one day plan. This means after activation, you have 24 hours to use it all up, or lose any remaining credit.
My favorite is the N2500 option. This lets you keep your credits for 30 days, but can only be used at night between 9pm and 6am. Assuming you live in Nigeria, and have friends in the USA. This kind of night time account comes in handy, because night time in Nigeria is actually daytime in the US.
MTN also offers more expensive options, depending on your needs.
So, how does the MTN account work? How do you get the account to work with Skype on your $80 laptop?
It is simple.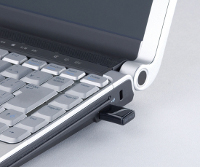 When you sign up with MTN, you get a USB modem which looks like a flashdrive.
You insert the modem into one of the USB slots on your laptop.
Follow the instructions provided by MTN, and eventually you would be connected to the Internet.
Friends of mine have used MTN with varying degrees of success. Being a wireless technology, you sometimes suffer from frequent disconnects. But I must say I have witnessed hours of uninterrupted connections in the past. Friends I've chatted with in the past using MTN, are located in the Abuja/Minna area.
Once you are connected to the Internet using MTN, Glo-1, etc, you can now open your web browser, and go to
http://www.skype.com/intl/en-us/get-sky ... r/windows/
Download and install the free Skype program.
Create a Skype account if you do not already have one.
Once Skype is installed, launch it, and login with your Skype account.
You can now add your friends to Skype, and start making free phone calls to them. Video calls are also possible.
To give you an idea of how much money you can save with this cheap laptop, friends and family in Nigeria call me in the USA. In one case, after 10 hours of intermittent voice/video chat, only about 15% of the N500 MTN credit had been used. In othere words, a 10-hour International phone call for only N75! How much do you think a 10-hour phone call would cost on a typical mobile/cellular phone?
As you can see, for as little as $80, you can purchase a real laptop computer that lets you do most of the things you would do on a normal computer. But most importantly, you would be able to make free long distance voice/video calls, as well as be able to get online anytime anywhere within the ISPs coverage area.
My guess is that $80 is not outside the price range of most Nigerians. Imagine that most Nigerians could purchase this little computer. That means you no longer need to pay the phone company for long distance phone calls. You simple make free Skype/VoIP calls to each other. Furthermore, you can now get online from your own home, or from anywhere you happen to be.
The setup of Skype is not difficult. But those less tech-savvy may need assistance on how to set it up, how to add users, how to dial other Skype users and how to receive calls from them.
Now you no longer have an excuse not to own a computer. Go on and order a cheap laptop today.
How can you purchase one one of these $80 laptops? You can order one directly from Hong Kong -
http://www.dealextreme.com/p/7-tft-lcd- ... -lan-39391
It would be shipped to you in Nigeria. The shipping is free too.
There are even rumors of $35 laptop coming soon out of India:
http://www.youtube.com/watch?v=G62EiyUy ... re=related
http://www.reuters.com/article/2010/07/ ... R720100723